Introduction
Concept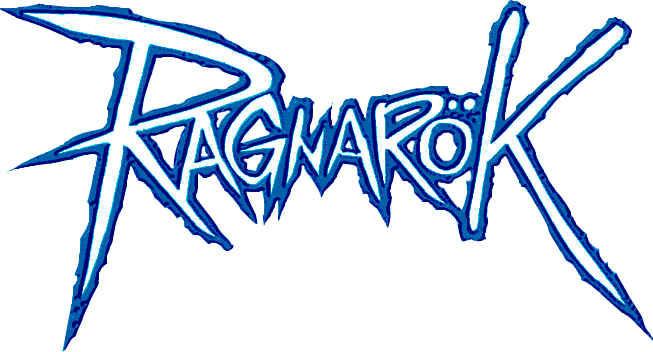 Ragnarok Online is a massive multiplayer online(MMO) role-playing game created by Gravity based on the manhwa Ragnarok by Lee Myung-jin. Ragnarok Online (RO) allows you to create a virtual character, customize it, and partake in epic adventures across exotic lands. RO is a great way to hang out with friends as well as make new ones. With an ever-expanding universe, in-game events, and a large community of users, there are always places to see, things to do, and people to meet in the world of Ragnarok!
At the very beginning of the game, you are born into this world as a Novices, you need to master basic knowledge and choose your first profession to reach the 10th level of Job. In Ragnarok Online, a character's abilities and skills are defined by their class (also known as job).
note*:
In addition, you will have the choice to become super-novices and continue to explore the world further along with the rest.
Also in the new updates there is an opportunity to start the game for a new Doram race.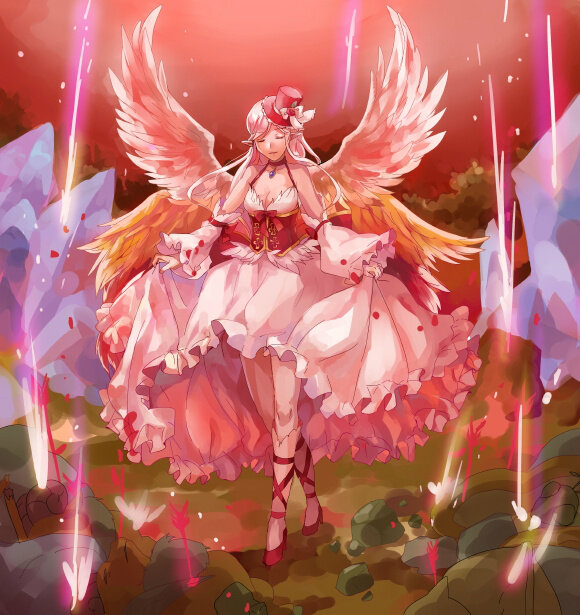 Upon reaching the 40th job level, you will be able to get a new class. Take the choice very carefully, because by choosing a new class, you will not be able to change it. Then after reaching Base Level 99 and Job Level 50 you can choose to transcend and start the process again, being rewarded with a more powerful, transcendent character.
Upon reaching the level of 99-50 on the 2nd class or 99-70 on the transcendent. You will have the right to transfer to the 3rd grade.
Every character that you play in Ragnarok Online has several aspects that you can modify, by ways of leveling up, quests, or items. These include your character's Job Classes, Stats, Skills, and Equipments. These aspects define how you play your character, and how your character can perform, within the game world.
Job Classes (link)
Each job differs from others by having different sets of skills, being able to wear different kinds of weapons and equipments, and holding different roles when working in a party.
Turning from one job to a higher job requires quests, which differs from one job to another. Most of these job-change quests involve tests of skill or knowledge.
Novice
Every new human character that are created begin as Novices. They are the most basic class, and do not have any special capabilities.
First Job Classes
When a Novice reaches job level 10, they will be able to turn into a first job class. The original first jobs consist of Swordman, Acolyte, Mage, Archer, Thief, and Merchant.
Upon reaching job level 40, a first job character can turn into one of the second job classes. However, it is recommended to get the max job level of 50 before changing jobs.
Second / Third Job Classes
Each of the 6 first job classes have 2 choices of second job class.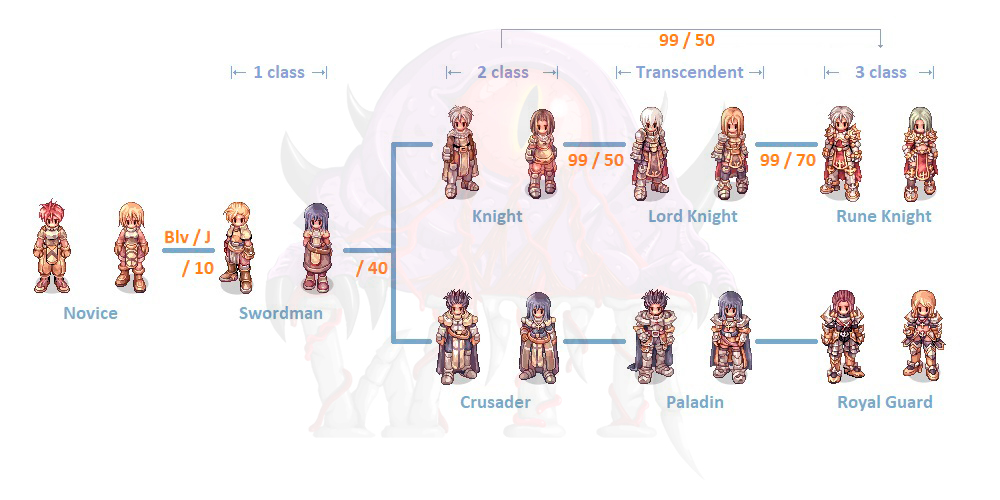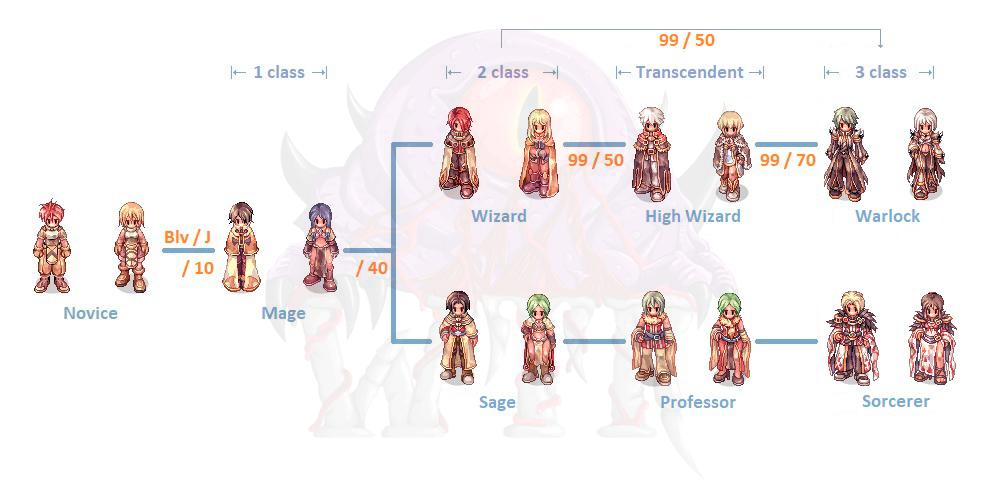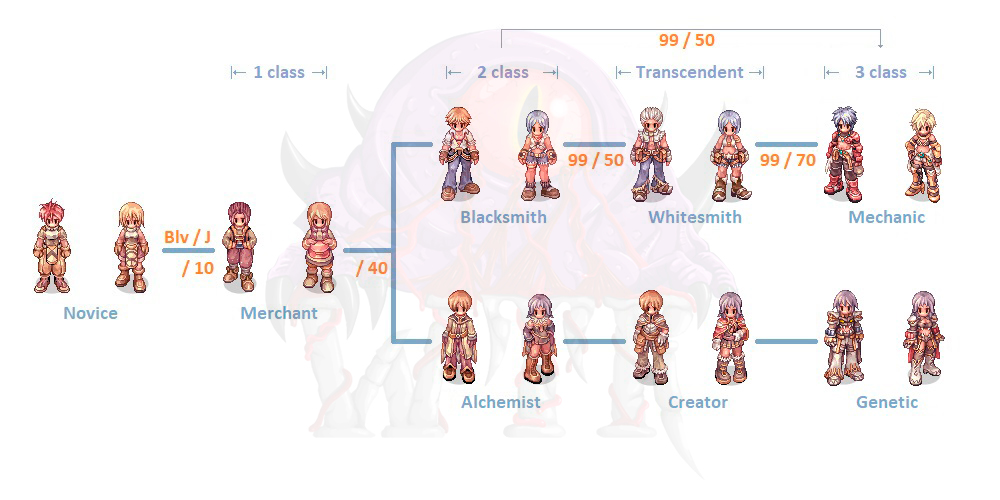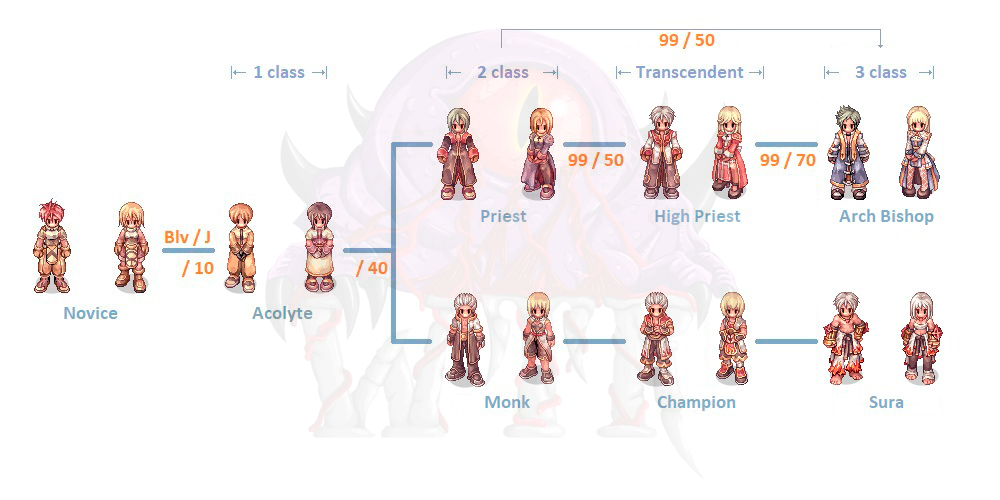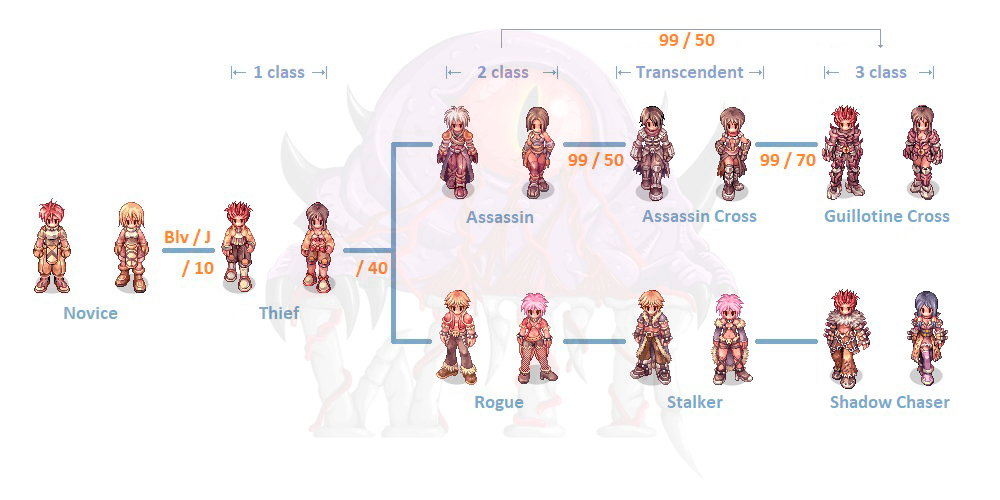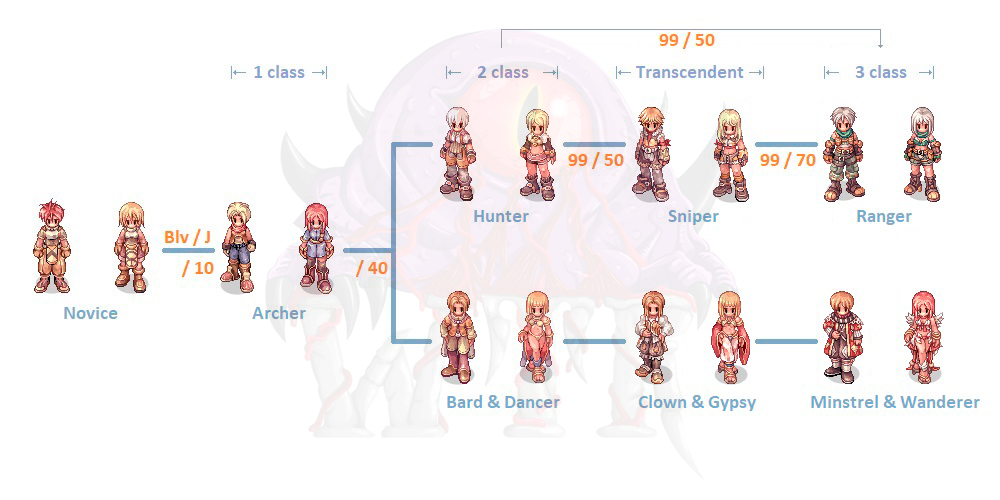 Extended Classes
The extended classes are classes implemented in a later update as an addition to the original six. These include the Taekwon Kid, Ninja, Gunslinger, and Super Novice.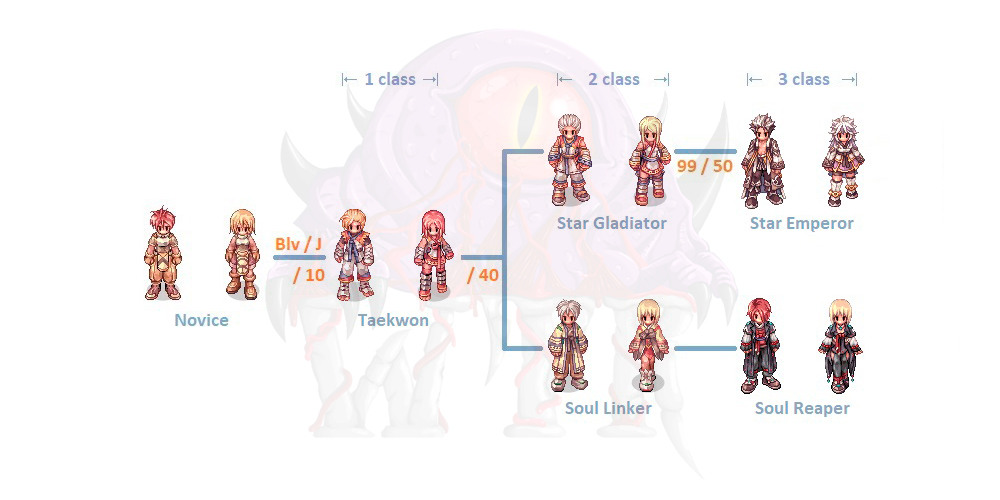 Taekwon Kids relies on using the art of Taekwon Do to defeat their enemies. They are unable to wield weapons, but are immensely powerful, capable of enchanting themselves with any element to gain advantage against their enemies. At job level 40, they can turn into a Star Gladiator or a Soul Linker.

Star Gladiators (Third -> Star Emperor). Among the forces that deal with the power of the sun, moon, and stars to develop your own strength, a wider range of knowledge there was a man who craved it. He traveled the world and did research. To learn how to deal with the power of the universe the sun, moon, and stars are no longer limited we reached the point where we didn't have to give any authority. He has learned the knowledge of the universe, which is the value of all things. He was called Star Emperor.

Soul Linkers (Third -> Soul Reaper). There was a soul linker who wanted to gain deep knowledge about the soul. She wants to learn more about the soul, about the afterlife. We have extended the scope of our research to Niflheim. There, she continued to study her soul. To learn about the unique soul energy called "Soul Energy", became. She learned various ways to use the soul, such as taking away the opponent's soul or connecting the souls to each other, rather than just summoning the soul with soul energy. She called herself the "Soul Reaper" and sought to return to the earth world to pass on all the soul knowledge she had acquired to other Soul Creators. However, after being in the Afterlife for so long, she was subjected to the afterlife that she could no longer go out into the earthly world. She spent years waiting for the soul linkers to come to the afterlife to study the soul as she did.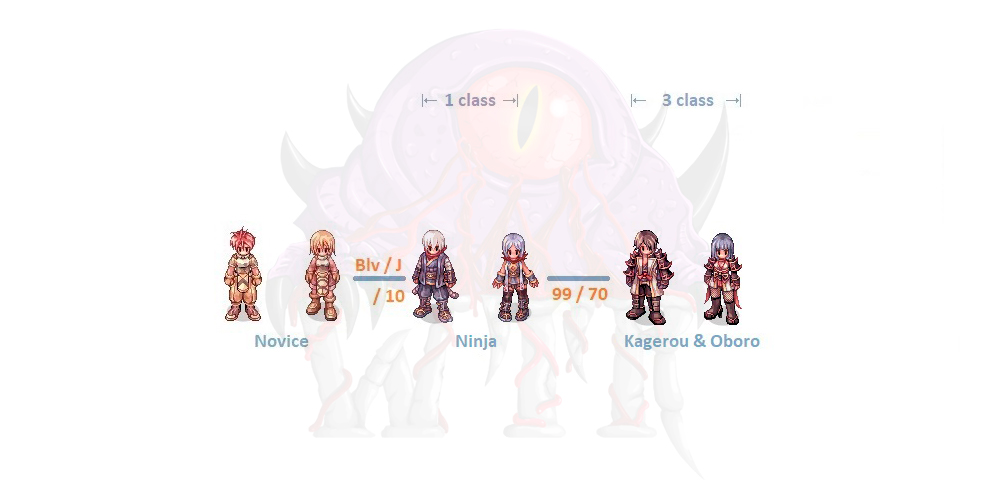 Ninjas are elusive warriors, capable of using both physical and magical power against their enemies. Their unique ninjutsu allows them to be untouchable by enemies, making them a powerful class. At level 99, they can turn into a Kagerou or an Oborou.

Kagerou(Man)/Oboro(Women). Many ages ago, there was a powerful clan of shadow warriors who served the Lord of Amatsu. Content to be the right hand to the feudal warlord, they were known as the Ninja-silent assassins who excelled in weapon and magical arts.Just recently the descendants of the original Ninja have returned to assist in the battle against the forces of evil in Rune Midgards, and have been gathering recruits to pass on their ancient techniques.The Kagerou and Oboro are hybrid classes like the Ninja, and are able to use magic or physical attacks.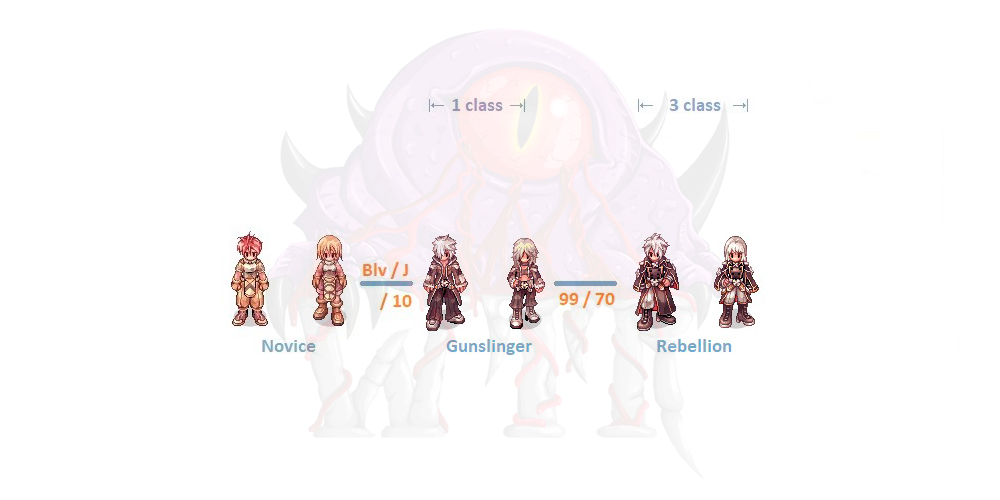 Gunslingers are long range combatants, using gunpowder technology to strike from afar, or in desperate times, up close. Their weapons are more finicky compared to the archer's bow, but are capable of wreaking greater havoc to enemies. At level 99, they can turn into a Rebel.

Rebellion. Superbly trained in the arts of marksmanship, the Rebel job class is available to Gunslingers who have reached level 99. Able to deal massive amounts of damage, and armed with new bullet types, the Rebel is a deadly new foe.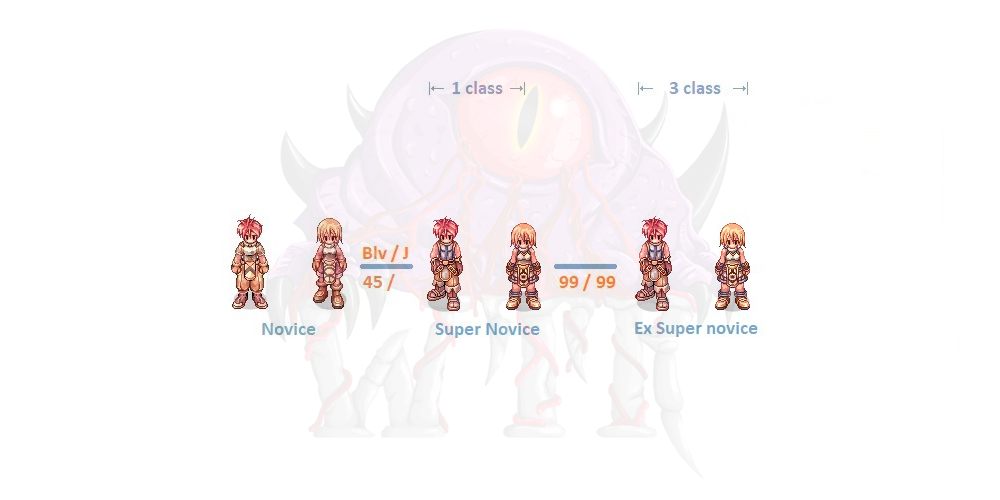 Super Novices are jacks-of-all-trade, capable of learning most of the original first classes' skills. By doing a special call to their guardian angel, they can attain great blessings that allow them to be an invaluable ally. Players can only turn into a Super Novice after reaching Base level 45 as a Novice.

Upon reaching Level 99/99, they can do a quest to become an Extended Super Novice, which gives them access to several second job skills.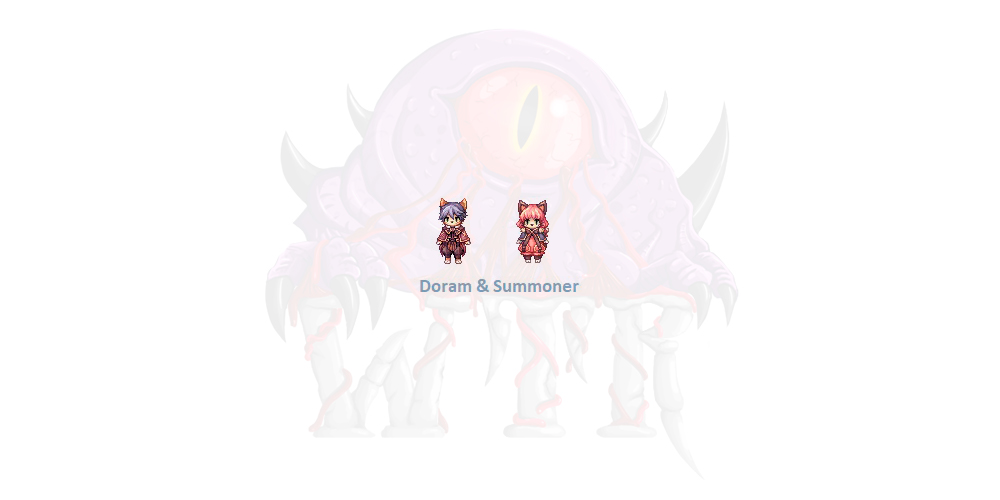 Doram

Do you remember the little cat ship that once sailed on the Wind River, the Butterfly Lake? A cat full of curiosity and passion in Wave Star, an unknown land beyond the sea, following the Butterfly Lake, the Doramas plunged into the Kon-Kilina Lake and arrived on the Midgard continent. With an unprecedented revival of cats, Malangdo and Izlude are filled with meows! On the new continent, a flock of prawns summoned by the Val-Didin Doramas is scattered throughout Midgard. Bayahro, the Great Age of the Ram has opened...! Are you the sucker Dora who crossed the Ravioli Mountains? Yes, you're going to Midgard, to a New Continent? So, first of all, you have to be stronger than me, right? Welcome to Lasagna, upstart Doram!
Stats
Status Window (Alt+A) of a Level 1 Character
Stats are the variables that define a character's performance in game. They can be increased by spending Status points, which are gained whenever the character's Base level goes up. Each of these stats affect the character's substats, which directly affects how the character performs.
The entire stats system has been revamped. With the higher Level cap, the cap for max stats were also raised up to 130. The increase in availaIble stat points allows true hybrid classes to be made. Below is a short description of each Stat with comparison to Pre-Renewal mechanics, if applicable.
STR: Every point in STR:

For melee weapons, every point in STR increases StatusATK by +1 and WeaponATK by 0.5%.
Each point of STR also adds +30 Weight Limit.
Every 5 points in STR, for ranged weapons, increases StatusATK by +1
The bonus ATK per 10 STR for melee weapons is no longer applied.




AGI: Every point in AGI:

Adds +1 Flee and increases ASPD.
Every 5 points in AGI adds 1 SoftDEF.

Resistance

:

Bleeding

/

Sleep

.




VIT: Every point in VIT:

Adds +1% MaxHP, +2% HP Healing Item effectiveness, and +1% resistance to several status effects.
Every 2 points in VIT adds +1 SoftDEF.
Every 5 points in VIT adds +1 SoftMDEF and +1 HP Recovery Rate.

Resistance

:

Stun

/

Poison

/

Burning

/

Freezing




INT: Every point in INT:

Adds +1.5 StatusMATK, +1% MaxSP, +1 SoftMDEF, 1% SP Healing Item effectiveness, and decreases cast time.

Alchemists: Brewing

success rate +0.05% (half the benefits of DEX and LUK)
Every 6 points in INT adds +1 SP Recovery Rate.
The multiples of 5 and 7 bonus for minMATK and maxMATK is no longer applied.

Resistance

: Blind / Silence / Chaos




DEX: Every point in DEX:

For ranged weapons, increases StatusATK by +1 and WeaponATK by 0.5%.
Adds +1 HIT, decreases cast time, and increases ASPD.

Thieves: Steal

success rate +0.1%

Rogues: Divest

success rate +0.2%

Blacksmiths: Forging

success rate +0.1%

Alchemists: Brewing

success rate +0.1%

Cooking

success rate +0.2%
Every 5 points in DEX adds +1 StatusMATK and +1 SoftMDEF. For melee weapons, increases StatusATK by +1.
The bonus ATK per 10 DEX for ranged weapons is no longer applied.




LUK: Every point in LUK:

Adds +0.3% Critical Hit Rate, as well as resistance to several status effects.

Blacksmiths: Forging

success rate +0.1%

Alchemists: Brewing

success rate +0.1%

Cooking

success rate +0.1%
Every 3 points in LUK adds +1 StatusATK, +1 StatusMATK, and +1 HIT.

Archer / Ranger

+1% Auto-Blitz /Warg
Every 5 points in LUK adds +1 Flee and +1% Anti-Critical Rate.
Every 10 points in LUK adds +1 Perfect Dodge.

Resistance

:

Blind

/

Curse

/

Frozen

/

Poison

/

Silence

/

Sleep

/

Stone Curse

/

Stun

.



Substats
Aside from Stats, several Substats were also drastically changed. Most of these define the main difference between Pre-Renewal and Renewal Mechanics.
ATK

In Renewal, the

Attack Power

(ATK) is divided into two, StatusATK and WeaponATK. In essence, they both contribute to the final damage (StatusATK being multiplied by two). However, when amplified by racial/size/elemental bonuses (such as Hydra Card or Skeleton Worker Card), only the WeaponATK is amplified. This makes it so that people no longer rely on 4-slotted starter weapons (such as a Quad-Racial Composite Bow), and instead will strive to get higher level weapons with higher ATKs and Refine rates to deal better damage.

MATK

Magical Attack Power

(MATK) is also divided into two, StatusMATK and WeaponMATK. With the introduction of this update, many weapons now possess a flat MATK number (e.g. 280 MATK from Staff of Destruction; 105 MATK from Bazerald). In MATK's case, WeaponMATK makes up the greater percentage of the final damage, due to the variance factor which relates to weapon level.

DEF/MDEF

The

Defense

(DEF) and

Magical Defense

(MDEF) system was revamped in the Renewal Update. HardDEF/MDEF is no longer limited into a 1-100 point system, with 100 being full immunity. Instead, the effect of HardDEF/MDEF is now reduced exponentially as the number goes up (i.e. the higher the number, the less effect every single point adds); and in DEF's case, the number often goes way beyond 100. For example, 200 HardDEF gives about 25% damage reduction, and 400 HardDEF gives about 40% damage reduction. As for MDEF, 20 HardMDEF gives about 15% damage reduction, and 40 HardMDEF gives about 25% damage reduction. With this change, many armor have had their DEF number raised significantly (e.g. 85 DEF from Meteo Plate Armor; 16 DEF from Naght Sieger's Flame Manteau; 120 DEF from Sacred Mission) to match the new DEF calculation system.
SoftDEF/MDEF which is mostly based on VIT and INT respectively, did not go through a lot of change from Pre-Renewal. They reduce damage subtractively, removing flat amounts from the final damage after the HardDEF/MDEF reductions are applied.

Critical

Critical

hits had been slightly altered in Renewal. Critical hits still ignore FLEE, but it does not ignore DEF anymore. Instead, it will deal 40% more damage by default. Additionally, more items provides Critical Damage bonuses, which means with the right combination of equipment and cards, it's possible to deal 200% your regular damage per critical hit, or even higher.

Cast Time

One of the most significant changes that happened with the Renewal update was Cast Time. It is now split into Fixed Cast Time and Variable Cast Time

The

Fixed Cast Time

part is not affected by Stats, and can only be reduced by special means (e.g. Arch Bishop's Sacrament or Temporal DEX Boots). Not all skills have a Fixed Cast Time, but the addition of Fixed Cast Time disallows skills like Acid Demonstration and Asura Strike to be cast instantly; thus offering balance in PvP.

Variable Cast Time

, on the other hand, is similar to the Cast Time in Pre-Renewal. The main difference is that it is no longer reduced only by DEX, but also by INT. Variable Cast time can be completely eliminated if (DEX x 2 + INT) = 530.

Delay

Delay is a relatively obscure mechanic that was mostly ignored in Pre-Renewal. In Renewal, however, it can be separated into two: Cast Delay and Cooldown.

Cast Delay

(After-cast Delay) is a delay that prevents all skills from being cast. Some skills, such as Magnificat, has longer Cast delay, while others have shorter ones. This delay can be reduced by certain equipment like Expert Ring and Kiel D-01 Card, and by a Bard's Poem of Bragi skill.

Cooldown

is a delay that prevents certain single skills from being recast immediately. Not all skills have Cooldowns, but some, such as Asura Strike, has a long Cooldown. This Cooldown is not affected by Poem of Bragi, and is only affected by very specific items, for example: Tornado Axe reduces the cooldown of Mechanic's Axe Tornado, and Bow of Storms reduces the cooldown of Maestro/Wanderer's Severe Rainstorm.
Skills
Skills can be learned by spending Skill Points, which are gained whenever the character's Job level goes up. All skills can be classified as either Passive or Active.
Passive Skills

Passive skills

are skills which do not need to be activated to take effect. These skills usually provide certain bonuses that are applied once the skill is learned. An example of these skills are the Mastery skills (e.g. Swordsman's Sword Mastery or Priest's Mace Mastery) which adds bonus ATK when wielding a certain kind of weapon.
It is important to note that while these skills seem trivial at first glance, they can be important in maximising a character's potential in relation to its job class' role.

Active Skills

Active skills are skills that needs to be activated to take effect. Activating a skill is done by double clicking on the skill icon on the skill window, or by placing the skill on the Hotbar and pressing the corresponding keyboard key.
Active skills may be

Targeted

or

Non-targeted

.

Targeted skills, as the name implies, require the player to select a target for the character to cast the skill. Most offensive skills are targeted, namely an Archer's Double Strafe, and a Swordsman's Bash.

Targeted skills can further be divided to unit-targeted and ground-targeted. Unit-targeted skills require the player to target a monster or a player, while ground-targeted skills are cast on the ground. Some examples of ground-targeted skills are Acolyte's Pneuma and Mage's Thunderstorm.

Non-targeted

skills do not need a target, and are activated on button or key press. These skills are often self or party-targeted by default. Some examples of these are Merchant's Loud Exclamation and Acolyte's Angelus.